EBITDA @ $800K! Franchised Indoor Trampoline Park. Rising Sales. High Income & Densely Populated Location in Cobb County. 1st Time Offered
Ad ID : 2126112
Business Type
Indoor Trampoline Parks
---
Listing Details
Asking Price:$3,800,000
Annual Gross Revenue:$2,339,235
Annual EBITDA/Cash Flow:$840,000
Summary Description
1st time offered. Well established and highly profitable franchised indoor trampoline park. This is one of the hottest, fastest growing, and most profitable, types of retail businesses to hit the market in years. It's very simple to operate, maintain, and features extremely strong cash flow and profits.
Located in high growth rapidly developing region. Year over year sales have increased 17%!
The business has gained a strong reputation for providing a great family entertainment experience. This high profitability opportunity is set up for a new owner to take over immediately and continue to enjoy the benefits of the previous owner's efforts. Great location and strong service staff make this a turn-key opportunity. State of the art equipment and POS.
Strong area demographics with a population of 210,444 people within a 5-mile radius with an average of income $135,999
Owner has recently invested $$$ in new updates, attractions, equipment and an arcade redemption center.
Interested in additional Information?
1) Download or open the Confidentiality Form located below.
2) Complete the Confidentiality Form and return it to us via the email address listed at the bottom of the Confidentiality Form.
3) Upon our receipt of your completed Confidentiality Form, we will contact you and provide you specific data for this business opportunity.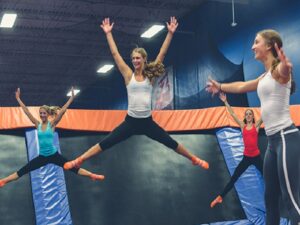 General Information
Year Established: 2018
Facilities: High traffic retail corridor with immediate access to Interstate-285 and superior visibility Excellent arterial exposure along Cobb Parkway. Ample parking, easy ingress/egress and attractive construction 29,000 SF building with ample parking. End cap location in strip center.
Building Sq.Ft.: 29000
Market Outlook
About the Sale
Support and Training: Seller will provide training for seamless transfer. Additionally there is training provided by the Franchisor
Reason for Sale: Owner not able to provide time and management due to multiple other businesses.
Attached Documents:
Confidentiality Form
Contact Information
Name: Dan Puciato
Phone: 410-227-9444
Email: [email protected]