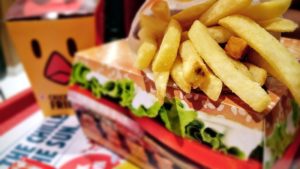 If you decide to pursue becoming a franchisee of a fast-food restaurant, Atlantic Business Brokerage wants to help you navigate the journey ahead successfully! Working in fast-food has its ups and downs, and certain people tend to thrive in this industry. The nature of buying a fast-food franchise and taking ownership of your store's operations is multi-faceted. While not inherently a good or bad decision, buying a fast-food restaurant is a considerable investment that should be thought-over from a realistic standpoint. An aspirational and entrepreneurial spirit is terrific but can quickly cloud one's judgment. 
Fast-Changing Market and Consumer Tastes
Don't get stuck on the idea that because everyone will always eat and desire convenience, buying a fast-food franchise is a guaranteed safe business move. If you have your eye on a franchise that is going through a current growth and popular phase, it can be a signal of a prosperous business endeavor. However, market trends always fluctuate as do consumer tastes. By the time you acquire the fast-food franchise and begin running the operations, you can just as likely find yourself a bit late to the party, with lower returns than expected.
Brand Name and Success
Attaching your livelihood to an established brand name also has its pros and cons. Franchisees who work for a widely-known fast-food chain can benefit from widespread brand recognition and the current customer fanbase. Corporate offices tend to offer tons of support and business success help, like training and marketing, leaving franchise owners to focus on the core food-service aspect of fast-food restaurants. However, the general public's perception of your business will always be closely aligned with the brand, meaning company trouble at the corporate level can impact the success of individual stores. We see both sides of this situation with the Subway franchise. Scandals and market competition put Subways in a low for the past couple of years, but new initiatives are invested in revamping its stores nationwide.
Personal Commitment
Successful businesses, including fast-food franchises, need the active leadership and forward-thinking of the business owner to thrive. You should have a deep sense of personal commitment and drive for hard work to make your restaurant do well, and for you to enjoy what you do. To be your own boss and to run your operations is a deeply rewarding opportunity you can achieve by buying a fast-food franchise.
Buying With Atlantic Business Brokerage, Inc.
At Atlantic Business Brokerage, our mission is quite simple; we help sellers sell businesses, and buyers buy businesses! Over the past 30 years, ABBI has facilitated the sale of countless commercial properties, businesses, and franchised locations. With our unparalleled knowledge of the business purchase and sale industry and our network of contacts, we offer services to both buyers and sellers that no other brokerage firm can match.
Contact us to discuss your business buying and selling goals today at 410-561-9800, or Toll-Free at 800-279-7569. Email us at [email protected], and follow us online on Facebook and LinkedIn.