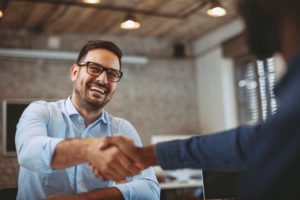 If you are beginning the process of selling your business, it's absolutely crucial to work with a business broker. It all starts with your first meeting with the broker. Here's what you should expect to get accomplished and what to have prepared for your first meeting to help you avoid trouble selling your business down the line. The first meeting should set the tone of success for selling your business.
Evaluate the Person
Your first impression of a business broker can set the tone for the rest of your business relationship, or even end it from going further than that first meeting. Working with an experienced and proven successful broker plays a significant role in selling your business promptly and for a great price. However, you should look out for signs that the broker you are working with is a reliable and trustworthy professional with personable qualities. The way they interact with you may be similar to how they will interact with your prospective buyers.
Services and Expectations
It's essential to understand the services a broker provides and what to expect from those services. Doing so will allow you, as the seller, to determine where their strengths lie and what you can do to fill the gaps. For example, the broker may help you determine your business value. However, they don't necessarily have the right expertise to tell you how to fix current management or marketing issues, should those be areas of concern. A business broker should be able to answer your financial and legal questions regarding the sale of your business, as well as refer you to additional resources and services.
Be Prepared to Present Your Business
For this step, it helps to work with a business broker with the appropriate background knowledge of the industry your business operates in. It helps greatly reduce your need to explain every element of your business, and gives you better confidence in the broker's skill and knowledge. You may tour your facility to examine the property and equipment at this time if the meeting is at your business place. Most importantly, this is the time to be honest about your business's operations and financial situation. The broker will exercise the appropriate means to show buyers the attractive aspects of the business, but they need to know upfront about potential areas of concern. Furthermore, be sure to have all the appropriate tax records and business-related paperwork on hand for their initial review.
Setting Up Future Appointments
As an ongoing process, expect to meet with the broker many times throughout your business relationship. They will report on current progress with prospecting buyers and completing the necessary paperwork to facilitate your business sale. Also, as the seller and business owner, you can take these opportunities to update your business broker with the latest information regarding your business that may help with speeding up the selling process. Setting up the next appointment keeps you on track for a successful business sale experience.
Sell With Atlantic Business Brokerage, Inc.
At Atlantic Business Brokerage, our mission is quite simple; we help sellers sell businesses, and buyers buy businesses! Over the past 30 years, ABBI has facilitated the sale of countless commercial properties, businesses, and franchised locations. With our unparalleled knowledge of the business purchase and sale industry and our network of contacts, we offer services to both buyers and sellers that no other brokerage firm can match.
Contact us to discuss your business buying and selling goals today at 410-561-9800, or Toll-Free at 800-279-7569. Email us at [email protected], and follow us online on Facebook and LinkedIn.