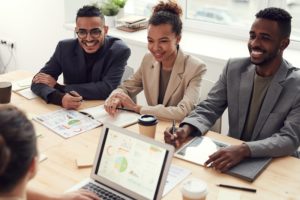 Knowing what to look for in a qualified business buyer is important to both sellers and buyers. Business owners are looking to sell to someone who can continue to operate the business to a high capacity. During this process, they won't want to waste any time. Sellers need to thin out the pool of interested buyers and only entertain serious offers. Buyers should try to understand what sellers are looking for in a qualified business buyer beyond having the funds to purchase. This way, they can present themselves in a way that highlights their strong suits as part of the negotiations and deliberations. These three factors and traits can help you determine if someone is a qualified business buyer for your particular listing.
Business Experience
Many of these factors don't necessarily make-or-break someone's qualifications as a business buyer, but it is certainly worth examining these areas of their professional life. A prime example would be to look at a potential qualified business buyer's past business experience. Do they hold certifications or previous ownership experience? Have they managed a team before, and in what type of setting? If they are a young or new entrepreneur, give them the chance to explain why they believe it is a sound business decision for them to acquire and run your business.
Industry Knowledge
If your business for sale is a restaurant, then your prospective qualified business buyer should ideally possess foodservice industry knowledge. You don't want your meeting with the buyer to turn into a full-blown course on how to run your operations and teach them the basics of the industry. By pursuing a business opportunity to be an owner in the industry they have experience in, it shows a level of commitment to bringing their skills to the table.
Attentive and Enthusiastic
You can usually determine how invested and serious they are about purchasing your business by the questions and concerns they have about your operations. Likewise, asking the right, specific types of questions can back up their claims of past experience and industry knowledge. These questions should cover everything from the day-to-day aspects of interacting with employees and customers, to vendors and competitors to be aware of. Indeed, uncovering all this critical information should also be part of their due diligence. The right buyer will want to understand how to successfully continue and grow business operations, rather than just purchasing it.
Buy or Sell With Atlantic Business Brokerage, Inc.
At Atlantic Business Brokerage, our mission is quite simple; we help sellers sell businesses, and buyers buy businesses! Over the past 30 years, ABBI has facilitated the sale of countless commercial properties, businesses, and franchised locations. With our unparalleled knowledge of the business purchase and sale industry and our network of contacts, we offer services to both buyers and sellers that no other brokerage firm can match.
Contact us to discuss your business buying and selling goals today at 410-561-9800, or Toll-Free at 800-279-7569. Email us at [email protected], and follow us online on Facebook and LinkedIn.