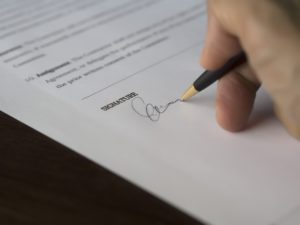 Before going through with the purchase of a franchise business, you will need to review and sign a franchise agreement carefully. This document is a contract between the franchisor and franchisee that outlines responsibilities, assets, limits, and more between the two parties. No two franchise agreements are the same, even from the same franchisor to their different franchisees. Potential franchisees would do well to consult with their business broker to fully understand the various facets and terms a franchise agreement covers.
Grant
In essence, this term grants the franchisee the restricted, non-exclusive proper to use the corporate entity's emblems, logos, system of operations, and providers' marks for a defined period. Franchisees do not own the right to represent themselves or operate with franchisor provided systems, but instead, they are temporarily granted permission to borrow these franchisor-owned assets.
Safety of Proprietary Information
In a similar understanding as to the "grant," it's made clear that the products and operating systems of the franchisor that they are licensing to the franchisee are considered proprietary information. As such, these are considered intangible assets to the company that franchisees are obligated to keep confidential and treat as trade secrets.
Opening Date, Territory Limits, Construct-Out
Within this term, a schedule is laid out and agreed to by franchisees to find, set up, and open a location for business. The franchisor outlines where the store location is limited to, as well as the state to which the store location must be outfitted and approved before opening. State and local building codes and regulations should be considered and addressed within this term too.
Time Period and Renewal
The franchise agreement and all included provisions are upheld for a set amount of time until an expiration date from when the agreement is signed. Most franchisors offer terms for renewing the contract with the franchise owner, and those conditions would be outlined in this section of the document.
High-Quality Management
Franchises are successful by maintaining consistency across their stores. Therefore, successful franchisees are expected to uphold quality-control standards set by franchisors. A minimal standard of requirements works as a baseline level of quality across several franchise stores. Failure to meet the agreed-upon standards can incur penalties or termination of the agreement.
Indemnification
Indemnification means to reimburse or compensate a party for losses. In terms of a franchise agreement, the franchisee will agree to indemnify the franchisor for damages should the losses come from a result of wrongdoing on the franchisee's part. This term keeps individual franchise owners accountable for running the everyday operations at their location.
Work With Atlantic Business Brokerage, Inc.
At Atlantic Business Brokerage, our mission is quite simple; we help sellers sell businesses, and buyers buy businesses! Over the past 30 years, ABBI has facilitated the sale of countless commercial properties, businesses, and franchised locations. With our unparalleled knowledge of the business purchase and sale industry and our network of contacts, we offer services to both buyers and sellers that no other brokerage firm can match.
Contact us to discuss your business buying and selling goals today at 410-561-9800, or Toll-Free at 800-279-7569. Email us at [email protected], and follow us online on Facebook and LinkedIn.