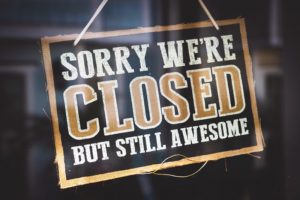 There may come a time, whether planned or unexpected, that you will need to step back from your ownership position and need to consider selling your small business. Before that happens, you should be aware of a couple of exit strategies. This way, you can make any necessary plans and arrangements to step away from the business on terms most favorable for you and the future of the company. There are quite a number of exit strategies one can choose to follow, and if you aren't sure which course of action is best for you, consult with knowledgeable small business brokers to help you through the transaction.
What is an Exit Strategy?
An exit strategy in business is your plan of action when you want or need to leave your company. Your transition away from the business may require selling your small business to another ownership entity or how you may dissolve the business. Plenty of business owners have an exit strategy in place since the start, whether as a contingency plan or with the intention to leave the business in a set amount of years.
Sell to a Family Member
Some small business owners look to pass on the business to a family member. Having a family successor to the business keeps your legacy alive and gives someone you trust a means to earn a living. This family member may already be aware of the business workings, and you'll be able to step in from time to time for any advisory purposes if needed.
Sell Your Stake to a Partner
If you co-own and wish to exit the business, consider selling your small business stakes to your business partner. When you first went into business together, you may have already discussed a plan for whether one would buy out the other if the situation ever came up. A business partner is another person you can rely on to carry out business operations with the apt leadership skills.
Manager or Employee Buy You Out
You can sell your small business to one or more of your interested managers or employees. They, too, would already be familiar with your business operations. If they express interest in taking over the small business, you could arrange a deal to keep a share of the business or other advantageous agreements on your behalf. Further, selling to your staff can guarantee some or most of your existing employees can keep their jobs after you leave.
Merge with or Sell to Another Business
By merging with another business or company, you could negotiate terms to stay involved or walk away from your business altogether. In some cases, another business may try to buy your business simply to acquire your assets like customer lists and eliminate their competition.
Liquidation
While this option gives you the lowest return on your small business, you could close your business and sell your business assets. This is a rather straightforward and short process if you're not interested in having the business running after you're done, and you want to move on to your next goals quickly.
Selling With Atlantic Business Brokerage, Inc.
At Atlantic Business Brokerage, our mission is quite simple; we help sellers sell businesses, and buyers buy businesses! Over the past 30 years, ABBI has facilitated the sale of countless commercial properties, businesses, and franchised locations. With our unparalleled knowledge of the business purchase and sale industry and our network of contacts, we offer services to both buyers and sellers that no other brokerage firm can match.
Contact us to discuss your business buying and selling goals today at 410-561-9800, or Toll-Free at 800-279-7569. Email us at [email protected], and follow us online on Facebook and LinkedIn.