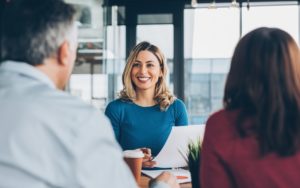 There are plenty of business brokerage services out there that can help you sell your small business. However, the best experience will come from working with the perfect small business broker who can handle your unique listing. To help guide your search for the perfect small business broker, ask them — and yourself — these three questions to determine how compatible your partnership will be.
Does their experience fit with your business?
You can count on better results if they have a proven record of success with selling businesses similar to yours. Your perfect small business broker can have a breadth of knowledge and experience with various business types and industries. Still, it should be the depth of their knowledge and experience working with businesses like yours in operation and transaction size.
How does their process work?
At some point during your first meeting or phone conversation, you should inquire about their process and get an idea of how your experience will go. The insights you gain from asking the small business broker this question could help you evaluate if they are the right service to use. Even if you may not have a great understanding of the various processes in valuing a business or assessing buyer's financial records, the way they answer your questions is a good indication of their competency and commitment.
Their process should also include a plan for keeping you in the loop on the progress of your business sale. A good small business broker works out a schedule to meet or discuss the sale status regularly, typically weekly. 
Do they seem trustworthy?
Facilitating a business sale, even with help from the best or perfect small business broker for you, will take several weeks, even months. Throughout this long and important journey ahead, you should feel like you can trust your broker to stand by you and give their all into creating a successful transaction. You don't need to pick someone you feel close with, but you should feel like they are a reliable partner, and each of your personalities complement the other while working towards the same goal: selling your business. A sign of someone you may not be able to trust is a broker solely looking to make some quick commission, without guaranteeing they will find the best offer for your business sale.
Selling With Atlantic Business Brokerage, Inc.
At Atlantic Business Brokerage, our mission is quite simple; we help sellers sell businesses, and buyers buy businesses! Over the past 30 years, ABBI has facilitated the sale of countless commercial properties, businesses, and franchised locations. With our unparalleled knowledge of the business purchase and sale industry and our network of contacts, we offer services to both buyers and sellers that no other brokerage firm can match.
Contact us to discuss your business buying and selling goals today at 410-561-9800, or Toll-Free at 800-279-7569. Email us at [email protected], and follow us online on Facebook and LinkedIn.