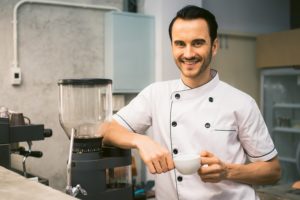 It's not impossible to overcome problems when buying a franchise, but what about afterward when the buyer becomes the franchise owner? Many people can choose to become a franchise owner, but certain people who demonstrate key traits tend to find more success in this role. The reality of being a business owner at a franchise, particularly in the fast-food industry, requires a certain level of commitment and determination to thrive. Do you think you possess any of the following qualities?
Team Mentor, Motivator, and Member
Becoming a franchise owner means you'll need to be able to take on a role that's more than being a leader. You must be able to act as a mentor when guiding your employees on how to do their jobs and interact with customers. As the franchise owner, you will also need to motivate your team and maintain positive spirits, even on tougher days. Additionally, a good leader also knows when it's time to work alongside their employees in everyday tasks and become an active team member, rather than being just a manager.
Problem-Solvers
Franchise owners have a knack for recognizing problems in their business and working out innovative solutions. They take the initiative and rise to the challenge. As an owner, expect to be the go-to person when a crisis arises. There are sure to be some issues during the transition phase, but owners know they can ask for help and input.
Values Learning
Businesses need to change to keep up with the times and thrive. As the franchise owner, you need to value the same idea. Staying informed on the latest industry trends and technology, developing business skills, and learning the ins and outs of the operations keeps owners sharp and ahead of the curve. Corporate offices often extend many resources and continuing education opportunities to their franchisees for this reason.
Understands Need to Network
Part of the valuable learning process and gaining insight from other industry professionals includes the need for owners to network. Owners will get to know their customer base and socialize with other franchise owners. This way, owners get a better, more well-rounded understanding of what they can do to improve their franchise.
Follows Rules
Another sign of a business owner who will thrive in a franchise environment is someone who has no problems following rules. Becoming a franchisee means abiding by many rules and regulations set by the franchisor. Many of these rules are put into place to promote success anyways.
Buying With Atlantic Business Brokerage, Inc.
At Atlantic Business Brokerage, our mission is quite simple; we help sellers sell businesses, and buyers buy businesses! Over the past 30 years, ABBI has facilitated the sale of countless commercial properties, businesses, and franchised locations. With our unparalleled knowledge of the business purchase and sale industry and our network of contacts, we offer services to both buyers and sellers that no other brokerage firm can match.
Contact us to discuss your business buying and selling goals today at 410-561-9800, or Toll-Free at 800-279-7569. Email us at [email protected], and follow us online on Facebook and LinkedIn.