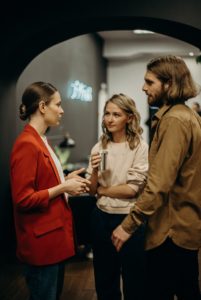 The process of selling a franchise can get complicated and confusing, but you won't be going through it alone. Along the way, there are a few key figures who will play vital roles throughout the transaction. As you prepare to move forward with selling a franchise, you're likely to involve the franchisor, a franchise broker, and your accountant. Here'sHere's how they will impact your franchise sale.
The Franchisor
When selling a franchise, one of your best moves to sell it quickly may be to reach out to the parent company and see if the franchisor will buy it back. If that isn't quite an option, you, as the franchisee, can see what type of support the franchisor provides to franchise owners looking to exit their role. In fact, franchisors may even have a shortlist of interested prospective buyers ready to take over your location. Franchisors may charge a fee if they find a buyer, but you'll want to get in contact with the franchisor regardless to inform them of your intention to sell. Even when you're leaving, good franchisors will want to work with you so they can set the next owner up for success.
A Franchise Broker
When the parent company can't step in with a list of buyers, you're going to want to hire a franchise broker. Selling a franchise can involve different knowledge and background than selling other types of businesses, so be sure to find a broker with the experience and qualifications. Most brokers have a network of prospective buyers they go to with opportunities that suit them while maintaining your selling situation's confidentiality. The franchise broker can answer your questions, guide you through the transaction, and handle many of the tasks and paperwork necessary in selling a franchise. This leaves you time to focus on maintaining a good working image of your business and keep making profits until you can find a serious buyer.
An Accountant
As with any business sale, the buyer will want to review your franchise's financial records as part of their due diligence process. You'll want to have all the accurate and relevant documents and financial statements at the ready. If you're worried about not having all of this information gathered, get in touch with your accountant to help you compile what you need. Most buyers typically want to see a three to five year history of your business's performance through financial information.
Sell With Atlantic Business Brokerage, Inc.
At Atlantic Business Brokerage, our mission is quite simple; we help sellers sell businesses, and buyers buy businesses! Over the past 30 years, ABBI has facilitated the sale of countless commercial properties, businesses, and franchised locations. With our unparalleled knowledge of the business purchase and sale industry and our network of contacts, we offer services to both buyers and sellers that no other brokerage firm can match.
Contact us to discuss your business buying and selling goals today at 410-561-9800, or Toll-Free at 800-279-7569. Email us at [email protected], and follow us online on Facebook and LinkedIn.